There are places I remember
All my life, though some have changed
Some forever not for better
Some have gone and some remain
All these places have their moments
With lovers and friends I still can recall
Some are dead and some are living
In my life I've loved them all.
- from In My Life by Paul McCartney and John Lennon
Back in March, I wrote about the pilgrimage Ron and I made to one of the iconic landmarks of our generation. While in London for two days, we had frankly struggled to find the magic; until we walked from the St. John's tube stop into a quiet British neighborhood. There we would join fans of all ages at the "zebra crossing" on Abbey Road.
As children of the 60's, we both grew up listening to the musical revolution called The Beatles. We saw their first appearance on American television while glued to The Ed Sullivan show. I never screamed like the thousands of hysterical (stupid) girls whenever they came into view but I had a little crush on Paul (later it would be John).
Construction did not deter the mission of those who waited with us that day. We took turns scrambling into the road between traffic lights to pay homage by imitating our musical heroes.
Knowing that I was walking in the footsteps of the Fab Four seemed remarkable to my farm girl heart.
John, Paul, George and Ringo were young and beautiful in the summer of 1969. So were we. It made me melancholy for my childhood, my younger sister and my Mom....
Ron and I didn't exchange many words. We couldn't have spoken them anyway. Surprised by our emotions, we stood outside the gate at Abbey Studio and Ron scrawled our message on the wall. A cute young couple offered to take our picture. We returned the favor.
Ron submitted pictures of our crossing to the website below and they were recently posted . You can visit the site at:
www.AbbeyRoadCrossing.com
(Click on September 2012)
Or you can see them here:
"Hi There. We are Ron and Angie King from Salt Lake City, Utah. We are happy to share our pilgrimage to the Abbey Road crossing. Despite the fact the road was torn up due to the replacement of the ancient Victorian water line, we acted like little kids (we are both in our fifties) at the opportunity to make this crossing. We were only in London for one day and this was the single place on our absolutely can't miss list. We can now cross this event off our bucket list. The picture above is Angie on the crossing................
..................then the two of us, Ron and Angie, in front of Abbey Road Studios......................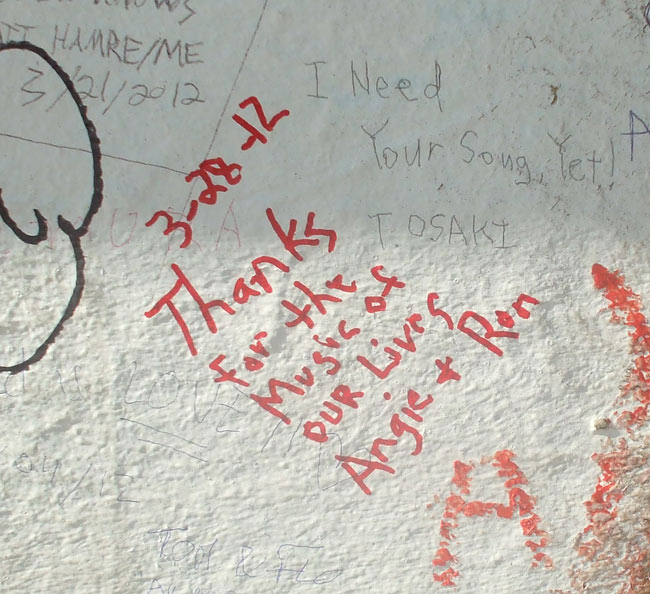 .......................the message we left on the studio wall...................
.......................and finally me, Ron, on the crossing. Thank you for the opportunity to share our memorable day. Ron and Angie King"